Ways to make a difference
Every Shoebox makes a difference and over a hundred thousand children benefit from Christmas Shoeboxes sent from Ireland each year! These gifts containing items for children to wash with; write with; wear and go WOW.
The children who receive your shoeboxes come from communities affected by poverty where they often face deep challenges. Communities often struggle with issues like a lack of clean water, the inability to provide balanced, nutritious meals each day,  poor healthcare, low incomes and exclusion. That's why the shoeboxes that they receive make such a difference! 
Jannifer's Story
In Machakos County, Kenya, Jannifer received crayons, soap, a toothbrush and toothpaste in her Christmas Shoebox. Items sent in Christmas Shoeboxes bring so much joy but also help practically.
Team Hope
At Team Hope we also work to help communities solve the big challenges they face. We have been working with our partners in the Machakos region, where Jannifer and her family live, for many years to achieve incredible results, providing sustainable water and hygiene solutions for entire communities.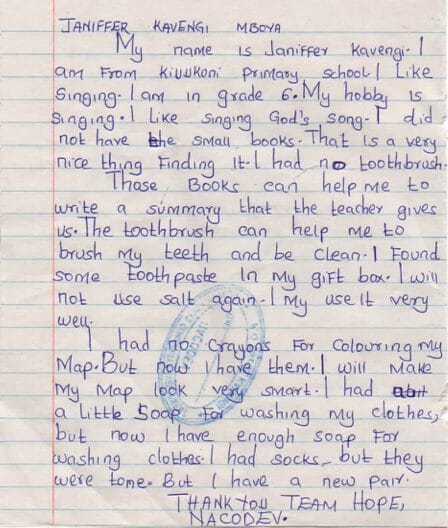 Syokisinga primary school
Syokisinga primary school in Machakos County has 120 pupils. Before this project there was no water running to the school and pupils had to bring their own, often travelling long distances on foot to collect water before school. The school also had only 3 toilets with iron sheet walls for all 120 pupils. As well as a new, purpose built, toilet block, a 10,000L tank has been installed to collect and treat rainwater for the school, making it safe to drink for the pupils all year round!
The head teacher, Madam Elizabeth, said that "It was embarrassing to lead a school without adequate sanitation facilities" she said. The population and performance are both on upward trajectory. Following hygiene training at the school, there has been a vast reduction in absenteeism due to illness; a major success for the students and the whole local community . Read more about this project here.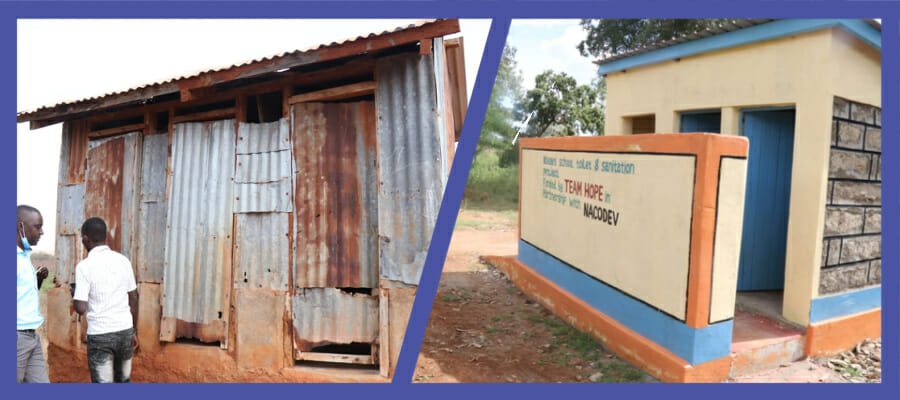 How you can help
Team Hope is very grateful for every shoebox donation received – these gifts really do make a huge difference .
Giving regularly on a  monthly basis to the work of Team Hope is a great way of, helping vulnerable children where its most needed or supporting specific causes  like Clean Water or Addressing Poverty and Hunger in fragile communities and countries.  
To become a regular giver, from as little as €5 per month, please click here*. 
 *When setting up your monthly donation, please be sure to opt-in giving us your permission to updated you 2-3 times per year with how your regular giving is making an impact.      
Every Euro makes a difference.