Stories from Ukraine-1 Year On
Nastea's (age 12) Story
Nastia and her family were supported by Team Hope through our partners in Moldova.
"We were living in small room in dormitory in Kharkiv. I was attending school and my brother was preparing to go to school this year. When we heard a strong sound outside in early morning, mom told me that probably something happened at the factory. But little after we heard many of those explosions, and women in the corridor were saying that the war has started and we all need to run away from here. Mom took us to the basement of the house. It was scary when something blown up very close and people around started to scream and cry. Then soldiers helped us to get out of the basement and we sat in a bus and left home. We were sleeping several days in different places. After, we got to the big crowd of people who were walking slowly somewhere. Mom said to me we need to walk too with them all. It was so cold outside and I was very tired, Misha was crying.
At the border a woman gave us bananas and juice, which I liked much. And a bus drove us to this place. We live here in a small room in a big pavilion. I was so happy when so through the window how you began to inflate your castle with air. It reminded me how we were last summer in a park for children in our hometown. I don't know where we will go… And when I will see my father and grandma… And my cat."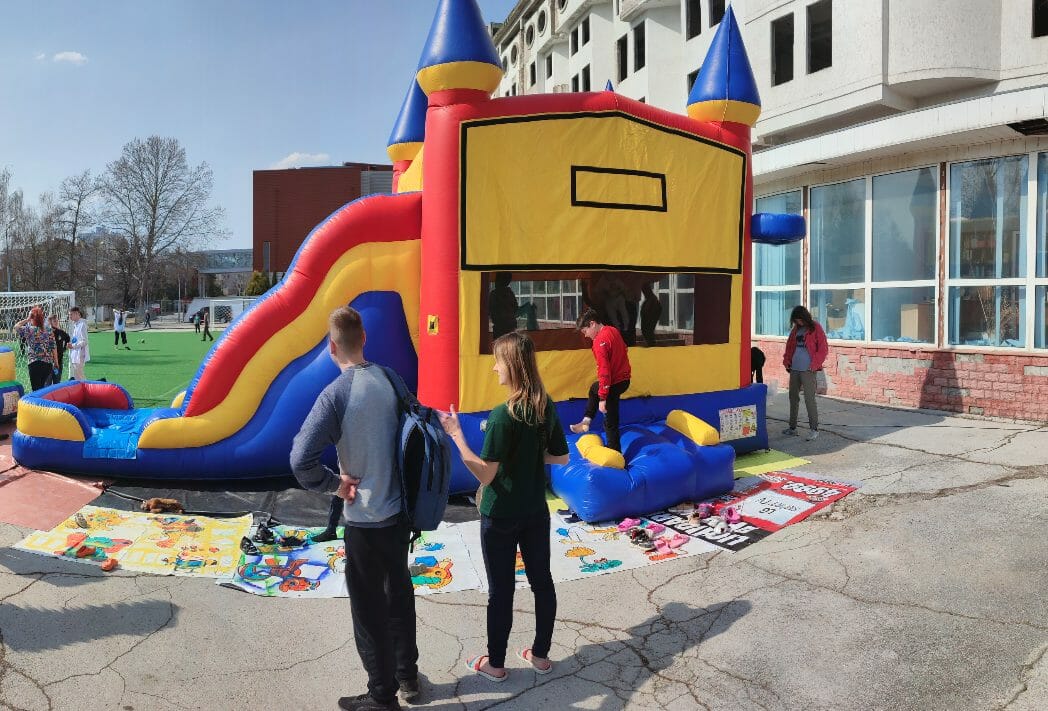 Anita's Story
Anita left Odessa with her 2 children aged 9 and 3.
"You know, we follow the news, we communicate with friends who stayed in Odessa and there is such a fear in heart from what's going on. And when I came here, there was such peace which I cannot describe"- says Anita. "Thank you very much for everything you do, thank you for remembering us and our children".
Marina's Story
Marina arrived in Transnistria on March 1st 2022, with her two children, a 13-year-old daughter and a 6-year-old son.
Marina told our partners that she would stay "until there is an opportunity to return home" Our partners helped Marina and her family to get settled and contacted them again in August to make sure they were able to get school places.
Gulnara's Story
26 year old Gulnara travelled with her 2 children to Romania. Born and raised in a Roma community Gulnara didn't have any documentation, a birth certificate or a passport. For more than six months now, our partners have been supporting Gulnara and her children, helping them to secure documentation and school places.
Nadia's Story
"We are refugees from Mariupol. This is our history of war.
We had 2 apartments, 2 cars. We were happy.  I have a great-granddaughter, she is 6 years old. She danced, sang and drew and most importantly, she had a happy, loving family. We dreamed, travelled, rejoiced, worked, made plans.
And so it came on February 24. Something terrible happened – the war.
On March 1, they turn off heating, electricity, water, gas. On the street cold, snow, in the apartment. We live in jackets and hats.
And the real hell begins.
Shooting, explosions, planes, flying bombs. At first we hid…legs are numb, you can not straighten, there is no place…She holds her mother's hand with her cold pen and asks, 'Aren't we going to be killed? I don't want to die.'
We need something to eat. We light bonfires on the street, break trees, cook some soup with dirty hands, try to make flatbreads because there is no bread.
We even had to collect snow in buckets, it melted and we could wash our hands. Corpses lay in the yards.
We understand that we are dying of hunger, cold, bombing. 14 days of hell. Clothes are torn, dirty. We say to ourselves: '"We mustlive! We have a child!"
My daughter shouts to me, "Mom, faster." And I'm 81 years old.
I raise my hands to heaven and shout in a loud voice, sobbing, "Lord, where are you? Can you hear me? Save us and save us!"
I hear a shout: "Get in the car!" A car without windows is on the move. This is the car of granddaughter's friends. After driving a bit, we saw a convoy of cars, join and leave the city.
Along the way, volunteers gave us bread, water and food in the window of the car. The windows were taped up, but it was still torn. It's cold in the car, the wind is blowing, we value it.
In Zaporizhzhia, a stranger fed us. Then we were again helped by friends of my granddaughter we met at the station and we settled in a building where we stayed for 14 days. There wewashed, took off dirty, torn clothes, people brought clean ones.
Now we are in Zhytomyr. We rented a house, we are helped by volunteers, the church. Thanks to all the people who meet on our way and help.
With God's help, life goes on."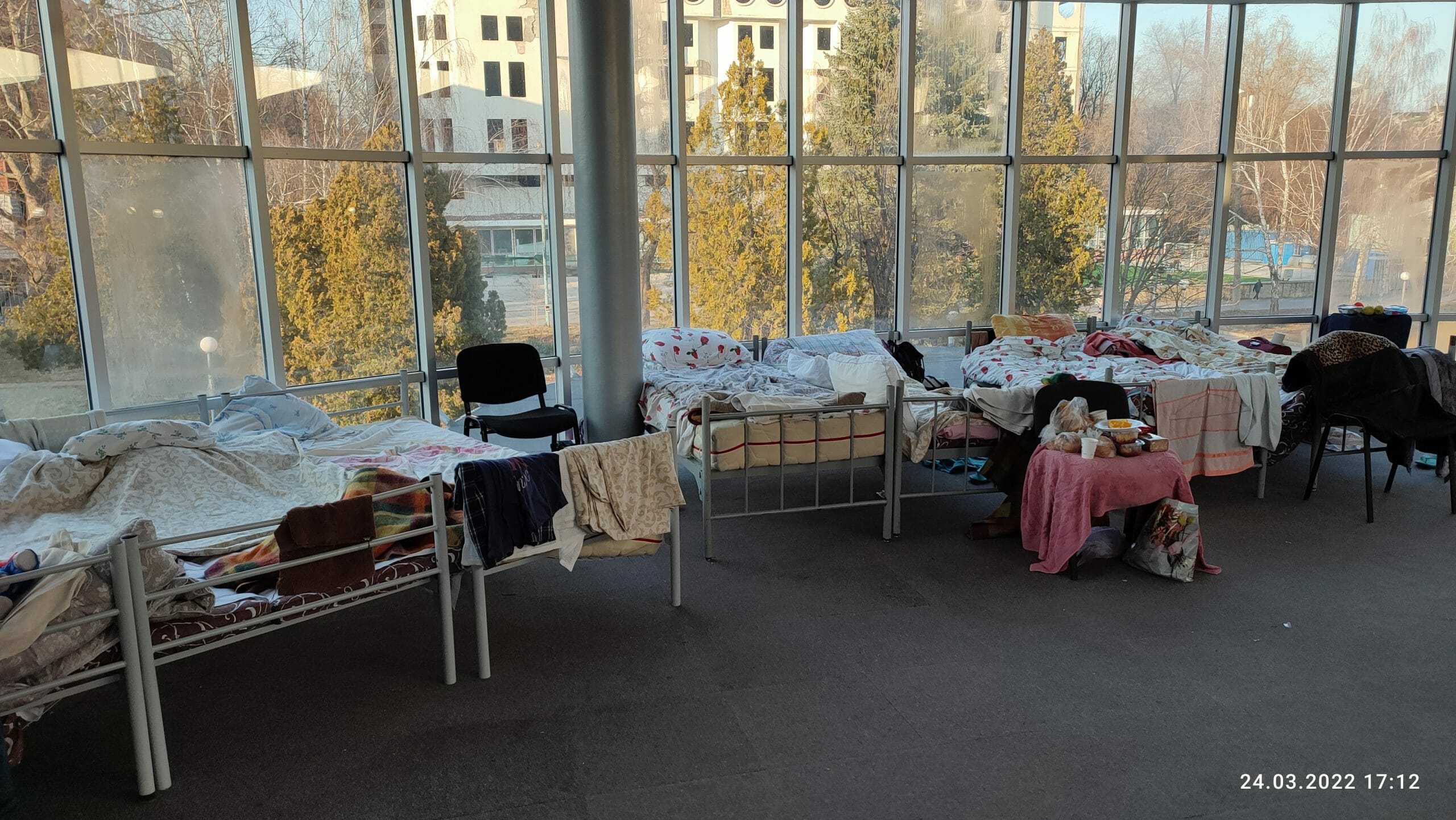 Julia's Story
Julia and her family were taken care of by Team Hope's partners in Moldova.
"My name is Julia, just a week ago I was living in Nikolayev, a city next to Odessa. I had my small bakery, which we opened not long ago. When the war started it was scary. All these night we were hiding in the basement of our apartment building until the bombing has intensified so much and we were told that army is coming to the city.
My husband stayed. I took my daughter and my two friends, young sisters with their children and we jumped into evacuation bus toward Moldova. We got to the enormous queue of cars and people. So we walked around 12km with children. It was so cold and windy with the snow. And thousands of people were going in front of us and behind us. It was shocking, I was asking myself, what I am doing here, what we will going to do after we get through the border.
It was so strange, a man who we didn't know picked us in Chisinau, bought phone sim-cards, and provided hot dinner in a local restaurant. We were taken to the summer camp and afterwards for our crowd of women and children was found a house, where we could stay until the war will end. And again there was given all what we needed from the bed linen to food and hygiene. It was even offered a dental medical help when my teeth went down in pain. I haven't see such people, and for us all it was hard to understand why they are doing all this for us. Only after visiting church service I realized why… I understood that God has arranged the way for us and provided these people to take care of us. It is so amazing, and absolutely first time in my life, experience."