Each year Medtronic's staff and the Medtronic Foundation support Team Hope's Christmas Shoebox Appeal, by donating gift-filled shoeboxes helping vulnerable children overseas.
For the 2021 Appeal, Medtronic's CRDN OU Operations team took a courageous step by providing core voluntary support running Team Hope's Galway City Checking Centre. Over 300 volunteers, comprised mainly of Medtronic staff, were engaged during the month of November resulting in just over 7,000 shoebox gifts helping vulnerable children in the Democratic Republic of Congo, in sub-Saharan Africa.
Detailed planning took place with Ruth Naughton CRDN Operations Director at Medtronic and her team mate Orla Sheeran along with Team Hope's Business Development Manager, Alan & Christmas Shoebox Appeal manager, Jonathan.
Ruth's logistical and operations knowledge and skills meant that the Christmas Shoebox Appeal checking centre at Galway racecourse was ready to go with just a 5 week lead time!
At the Checking Centre
Team Hope's volunteer management software system called Volunteer Impact, was used to onboard volunteers so that volunteers could easily sign up online for shifts.
When Christmas Shoeboxes arrive at a Checking Centre they typically go through a four-step process:
Checked: To make sure that gift items are suitable, then sealed closed with Team Hope tape.
Cartoned: Checked shoeboxes are tightly placed into an outer cardboard carton box.
Stacked: Cartons are stored in a safe way and in a safe place within the Checking Centre.
Loaded: Christmas Shoeboxes are loaded by carton onto a truck or sea container, maximising the load quantity.
The volunteer's experience while volunteering at the Checking Centre, is also an important part of Operations. Details and a link to a short induction video were emailed 1-2 days in advance of their first shift using the Volunteer Impact system. As many staff teams volunteer together, this is a great team building opportunity. 90%+ of those surveyed said that they were "Very Satisfied" with their experience!
Loading the truck, or in Galway's case a sea container bound for the Democratic Republic of Congo, is always a great highlight. Before loading the container, teams of volunteers gathered around pizza to share their experiences of volunteering and excited in the knowledge that these precious shoebox gifts were going to be on their way helping vulnerable children overseas. It was a poignant moment for all volunteers including Team Hope's CEO Peter Heaney and Medtronic's VP Donagh O'Shaughnessy lending a hand to load.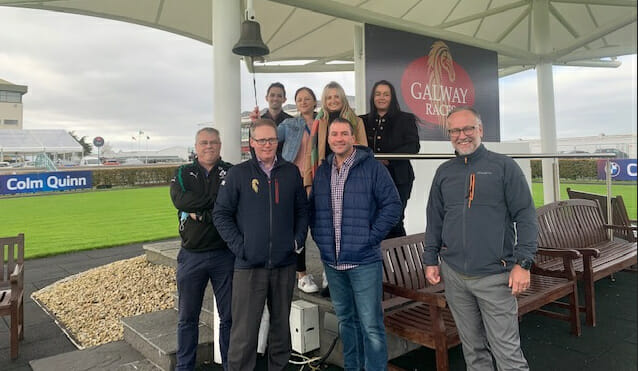 The Gift that Keeps on Giving
Thanks to thousands of donors across Ireland Team Hope's Christmas Shoebox Appeal is a gift to vulnerable children. In truth, Ruth and Orla along with all their Medtronic colleagues were a gift too in providing volunteer core Checking Centre operations.
Team Hope knows the impact of a simple Christmas Shoebox gift can last a lifetime. Team Hope's Sustainable Development Programmes bring lasting change for vulnerable children and their communities in the Democratic Republic of Congo and other sub-Saharan African countries like Kenya, Malawi, Rwanda and Burundi.