Team Hope responding to the war in Ukraine
Despite the present danger, our partners in Odessa remain in the city doing what they can to help others, including transporting people seeking to the Moldovan border.
Given the current uncertainty, difficulties and present danger for our partners Team Hope's main support to those affected by conflict in Ukraine is taking place through in surrounding countries such as Moldova and Romania where our partners are working around the clock to meet the needs of the hundreds of thousands of refugees who are fleeing the conflict.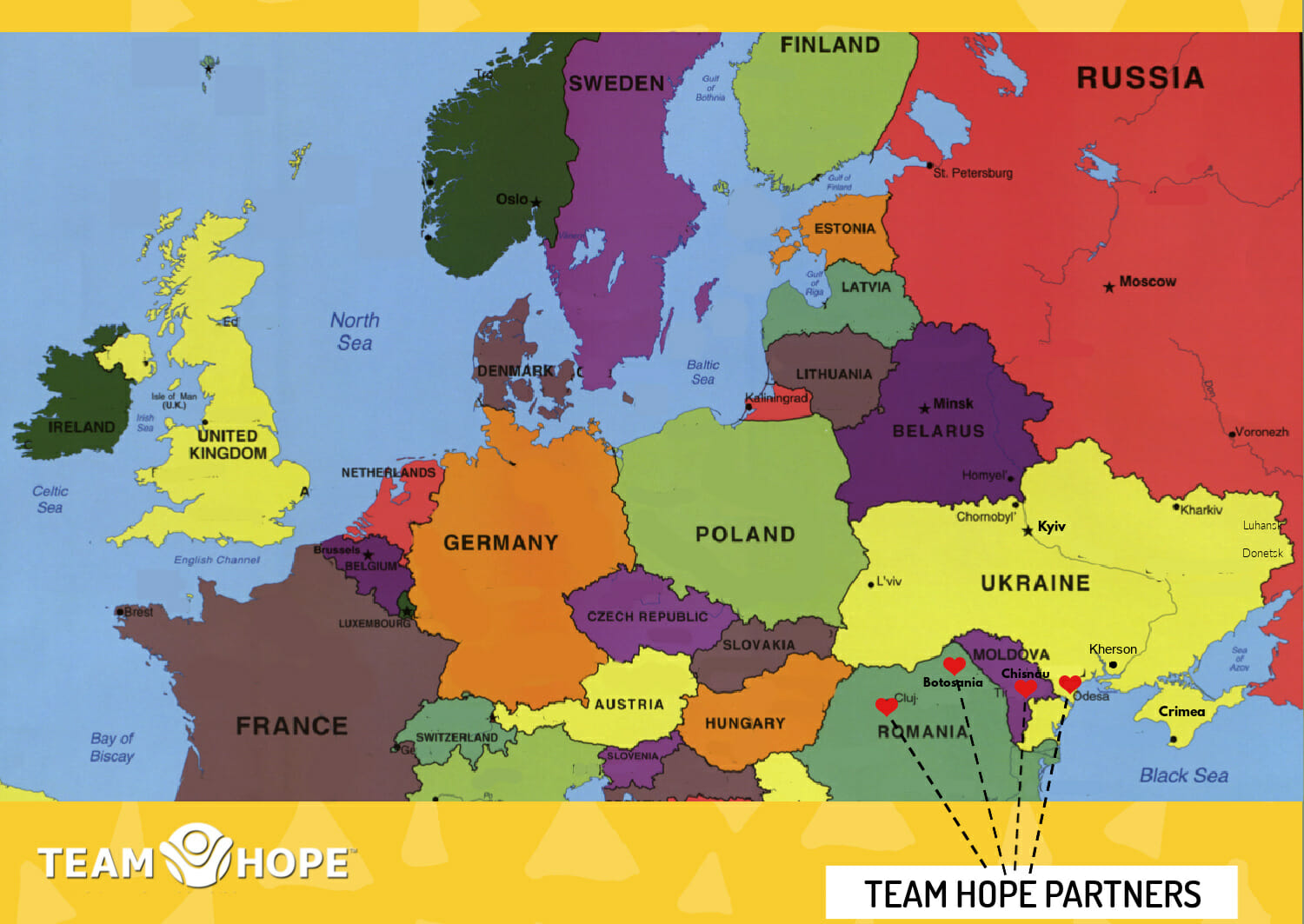 MOLDOVA:
In Moldova our partners are working in an area called Chisnau, near a border crossing from Ukraine. They are assisting the Moldovan government in providing support to refugees crossing into Moldova. Over 87,000 (as of 02/03/22) refugees have already travelled to Moldova with more arriving daily. They are overwhelmingly women and children who have had to leave male relatives in Ukraine and most are crossing the border on foot. They are working to provide shelter, food, hygiene kits and assistance with documents. In addition their trained staff are providing psychosocial support for both children and adults to help them begin to process some of the very difficult experiences they are going through currently. It is estimated between 300-1,000 people will avail of support from our partner over the coming month.
ROMANIA:
Team Hope is supporting the operation of a refugee transit centre in the town of Botosani. This is a place where those who have crossed can rest, recuperate and get some food and access sanitation before many continue their journeys. It is expected that over the course of the next month this centre will provide refuge to between 400 and 1,200 people.
Our partner is also, when border crossings allow, providing food and support to an organisation giving food to refugees and those who need it in the Ukrainian city of Chernivtsi.
We've been so grateful for all the generous donations received from so many supporters who have made this assistance possible. However, unfortunately the needs are huge and we know this crisis won't be short. The task is huge, but the compassion, selflessness, determination and love shown by our partners, by everyone who has donated, and by so many others across the world is the only true counterpoint to the aggression, callousness, cruelty and avarice exemplified in the Russian invasion. Everyone helping, in any way, stands for compassion in the face of inhumanity. We stand with Ukraine.